Burpengary Schools & More
Part of the Moreton Bay Regional Council, and conveniently located just south of Caboolture, Burpengary is one of the area's fastest growing communities. In fact, more than 14,000 people live in Burpengary, with easy access to a plethora of amenities and natural parks that make for a comfortable and convenient lifestyle for residents.
History of Burpengary
The name "Burpengary" is derived from the Aboriginal word "burpengar", meaning the "place of the green wattle". European settlement in Burpengary began in the 1870s, with timber cutting as the first industry. The town was initially founded as a truckstop on the North Coast Road, which is now known as the Bruce Highway. Over the years, Burpengary has evolved from a rural village into a bustling suburb, attracting residents with its natural assets and close proximity to Caboolture and Brisbane.
Schools in Burpengary
Burpengary hosts a number of schools from primary through secondary levels. The government offerings include Burpengary State School, Burpengary Meadows State School, and Burpengary State Secondary College, all of which offer special education programs. St Eugene College is the local Catholic primary and secondary school, with a student population of over 1,000.
There are also several public and private schools in Caboolture, including Australian Christian College - Moreton. Caboolture is within a short drive from Burpengary. Parents searching for P-12 Christian schools in Burpengary will find that all students at ACC Moreton are well known, well loved and well taught by a dedicated team of Christian teachers.
Burpengary's Natural Assets
Situated on the Burpengary Creek and the Bruce Highway, Burpengary offers a range of natural assets for residents and visitors to enjoy. The suburb is only about 6 km from the Deception Bay coastline, providing easy access to beautiful beaches and coastal activities. In addition, Burpengary is surrounded by parks and playgrounds, offering plenty of green spaces for families to explore and enjoy outdoor activities. With its proximity to both the coast and natural parks, Burpengary offers a diverse range of natural assets for residents to enjoy.
Gluten Free Cafe in Burpengary
Project Salubrious is a local favourite known for its exceptional food made from locally sourced ingredients, including dishes like Sriracha Chicken, Lamb Koftas, and Tiramisu. With a welcoming atmosphere and friendly staff, including owner and veteran chef Kurt, it's a haven for those with dietary restrictions as it offers gluten-free and dairy-free options that are as nutritious as they are mouth-watering. The restaurant also hosts engaging cooking classes, making it a top choice for both dining and culinary experiences.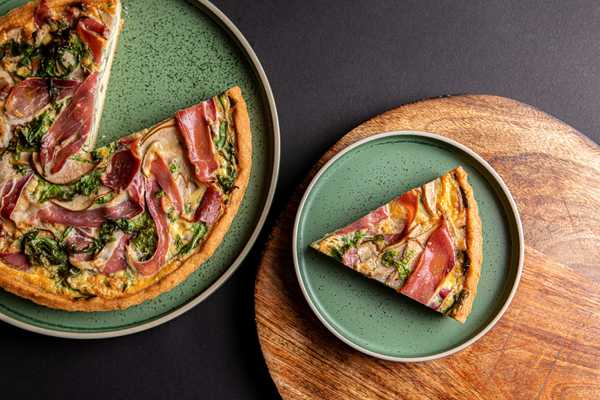 Hobbies & Interests of Burpengary Residents
The residents of Burpengary have a range of hobbies and interests to enjoy in their suburb. Families can spend their leisure time exploring the various outdoor spaces available. Burpengary also offers two shopping centres, Burpengary Plaza and Burpengary Village Shopping Centre, where residents can shop for their needs and indulge in retail therapy.
For those interested in sports and fitness, the Caboolture Regional Aquatic Centre provides access to an Olympic pool, warm-up pool, and a gymnasium. Additionally, the Caboolture Environmental Education Centre (CREEC) offers educational programs and activities for those interested in environmental conservation and learning.
The Local Economy of Burpengary
Historically, the town was known for timber-cutting and sugar cane farming. However, in recent years, Burpengary has developed into an urban area with a range of industries and amenities. With its convenient location on the Bruce Highway and access to the Burpengary railway station, Burpengary provides commuting options for residents working in nearby areas. Overall, Burpengary's local economy is thriving, offering a range of employment opportunities and amenities for its residents.
Transport Options in Burpengary
Burpengary offers a range of transport options, ensuring that residents can easily commute to and from the suburb. The Burpengary train station serves the town, providing access to Queensland Rail City network services. Bus services are also available, with various bus routes connecting Burpengary to train services and other nearby areas. Burpengary–Caboolture Road (Morayfield Road) runs through the locality, providing easy access to major roads and highways for those who prefer to travel by car.
ACC Moreton offers a private school bus service to Burpengary on school days. See the map below for options.
1

Jocelyn St, Caboolture

2

Patrick St, Beachmere

3

Dixon Ct, Beachmere

4

Biggs Ave, Beachmere

5

Main St, Beachmere

6

Blaney St, Beachmere

7

Campbell Pde, Beachmere

8

Muldoon Pl, Ningi

9

cnr Peel Rd & Bribie Island Rd, Ningi

10

Bestmann Rd near Seeana Ct, Ningi

11

cnr Bestmann Rd & Corrimal Pl, Sandstone Point

12

Bestmann Rd E near Eimeo Pl, Sandstone Point

13

Bestmann Road E, Sandstone Point

14

Lakeside Cres, Ningi

15

Water Gum Cres, Ningi

16

Espanade, Godwin Beach

17

ACC Moreton
1

Elkhorn Ave, Bellara

2

Warrigal St, Bellara

3

cnr Pectoral Pl & Marina Blvd, Banksia Beach

4

Raptor Crt, Banksia Beach

5

Beagle Ave, Banksia Beach

6

Miramar St, Bongaree

7

Ottiwell St, Woorim

8

Eden Cres. Woorim

9

Morris St, Bongaree

10

Allamanda Dr, Bongaree

11

ACC Moreton
1

Xanadu Dr, Bellmere

2

Bellview St, Caboolture

3

cnr Hillcrest Ave & Park St, Caboolture

4

cnr Afton St & Smiths Rd, Caboolture

5

Tullawong Primary School

6

cnr Central Springs Pde & Speedwell St, Caboolture

7

Smiths Rd, Caboolture

8

Old Gympie Rd, Caboolture

9

Old Gympie Rd, Caboolture

10

cnr Hammond Rd & Halcot Crt, Caboolture

11

cnr Markwell Rd & Spring Ln, Caboolture

12

cnr Markwell Rd & Limburg Ave, Caboolture

13

cnr Markwell Rd & Cathy Crt, Caboolture

14

Alcock Rd, Elimbah

15

Breadsell Dr, Caboolture

16

cnr Murrimbah Dr & Lyndhurst Tce, Caboolture

17

Smiths Rd, Elimbah

18

ACC Moreton
1

Logrunner Dr, Upper Caboolture

2

Tinney Rd, Upper Caboolture

3

Darley Rd, Upper Caboolture

4

Mackney Rd, Upper Caboolture

5

Dobson Ln, Upper Caboolture

6

Foodworks Parkridge Dr, Upper Caboolture

7

Olympic Crt, Upper Caboolture

8

cnr Lincoln Ave & Olympic Crt, Upper Caboolture

9

Minimbah State School

10

Cresthaven Dr & Crestwood Ave, Morayfield

11

Torrens Rd & Carob Ct, Caboolture South

12

River Dr at Lotus Ave, Bellmere

13

Belle Air Dr near Riverside Cct, Bellmere

14

Daintree St, Bellmere

15

cnr Daintree St & Tara Gr, Bellmere

16

Swann Road, Bellmere

17

cnr Piggott Rd & Hind Crt, Bellmere

18

cnr Kendall Rd & Cisticola Ct, Bellmere

19

Ulster Drive, Bellmere

20

King St at Caboolture Swimming Pool

21

cnr Watt St & Jade St, Caboolture

22

ACC Moreton
1

cnr Bigmor Dr & Remor Crt, Elimbah

2

cnr Bigmor Dr & Sammor Dr, Elimbah

3

Shak St, Caboolture

4

cnr Hodgskin St & Conte St, Caboolture

5

McMillan St, Caboolture

6

cnr Central Lakes Dr & Reddy Dr, Caboolture

7

cnr Seeney St & McCorley Ct, Caboolture

8

St Columbans Ct, Caboolture

9

Joyner Cct, Caboolture

10

cnr Boyland St & Crawford St, Caboolture

11

McAndrew St, Caboolture

12

Lloyd St, Caboolture

13

Male Rd, Caboolture

14

cnr Scribbly Gum & White Ash Crt, Caboolture

15

ACC Moreton
1

Carnarvon Dr, Beerwah

2

Sahara Rd, Glass House Mountains

3

Sugar Coast Dr, Glass House Mountains

4

Summit Close, Glass House Mountains

5

Wattle St, Beerburrum

6

Carawatha Rd, Elimbah

7

Brushwood Place, Elimbah

8

Beerburrum Rd near Kirsty Crt, Caboolture

9

ACC Moreton
1

Coach Stop William St, Kilcoy

2

cnr Mary Smokes Rd & D'Aguilar Hwy, Royston

3

Woodford Memorial Park, Woodford

4

Pates Rd, Wamuran

5

ACC Moreton
1

cnr Woodsmoke Crt & Homestead Rd, Morayfield

2

cnr Sauvignon Dr & Williamson Rd, Morayfield

3

cnr Williamson Rd & Excelsier Dr Morayfield

4

Oakey Flat Rd, Morayfield

5

cnr Creekside Dr & River Oak Way, Narangba

6

Stone Ridge Bvd, Narangba

7

cnr Tadorna St & Venus St, Burpengary

8

Rosehill Rd, Burpengary

9

cnr Hedges Ave & Pitt Rd, Burpengary

10

Busoni Cres, Burpengary

11

Hauton Rd, Burpengary

12

cnr Lakeview & Oakey Flats Rd, Morayfield

13

Greenbury Crt, Morayfield

14

Oakey Flat Rd, Morayfield

15

ACC Moreton
1

cnr Princess St & Sunseeker St, Burpengary

2

Cobb Rd, Burpengary East

3

cnr Normanby Cres & Moreton Bay Blvd, Morayfield

4

Graham Rd, Morayfield

5

Laver St, Morayfield

6

Coach Rd W near Lomandra Dr, Morayfield

7

cnr Jack St & Graham Rd, Morayfield

8

Market Dr near Suter Dr, Caboolture South

9

Kevin Grove, Caboolture South

10

Caboolture Train Station

11

ACC Moreton
1

Windsor St, Woodford

2

Woodford Memorial Park, Woodford

3

Scotts Ln & D'Aguilar Hwy, Woodford

4

cnr Mt Mee Rd & Newman Ln, Delaney Creek

5

cnr D'Aguilar Hwy & Mount Mee Rd, D'Aguilar

6

cnr Bell St & D'Aguilar Hwy, D'Aguilar

7

cnr Cash St & Hartley Dr, D'Aguilar

8

Akoonah Way, D'Aguilar

9

cnr Patanga Pl & Akoonah Way, D'Aguilar

10

cnr Rucker Rd & Campbells Pocket Rd, Wamuran

11

cnr Forestcreek Pl & Mountaintrack Dr, Wamuran

12

cnr Bye Rd & D'Aguilar Hwy, Wamuran

13

cnr County Dr & D'Aguilar Hwy, Wamuran

14

cnr Machinery Pde & Commercial Dr, Caboolture

15

ACC Moreton
Local Businesses, Burpengary
Burpengary is home to a range of local businesses that cater to the needs of residents, including:
By supporting these local businesses, residents help foster the growth and development of the local community.
Suburb Snapshot
The drive time from Burpengary to ACC Moreton is approximately 18 minutes.
Before and after school care is available for students of ACC Moreton through SmartPlay Caboolture (onsite).
Efficient kiss and drop zone operates along the front of ACC Moreton.
Bell times: 8.30am to 3.00pm
2023 term dates:

Term 1: 23 January - 31 March
Term 2: 17 April - 16 June
Term 3: 10 July - 15 September
Term 4: 3 October - 29 November
NEXT STEP
X
Discover how we would nurture your child's potential, personality and passion.