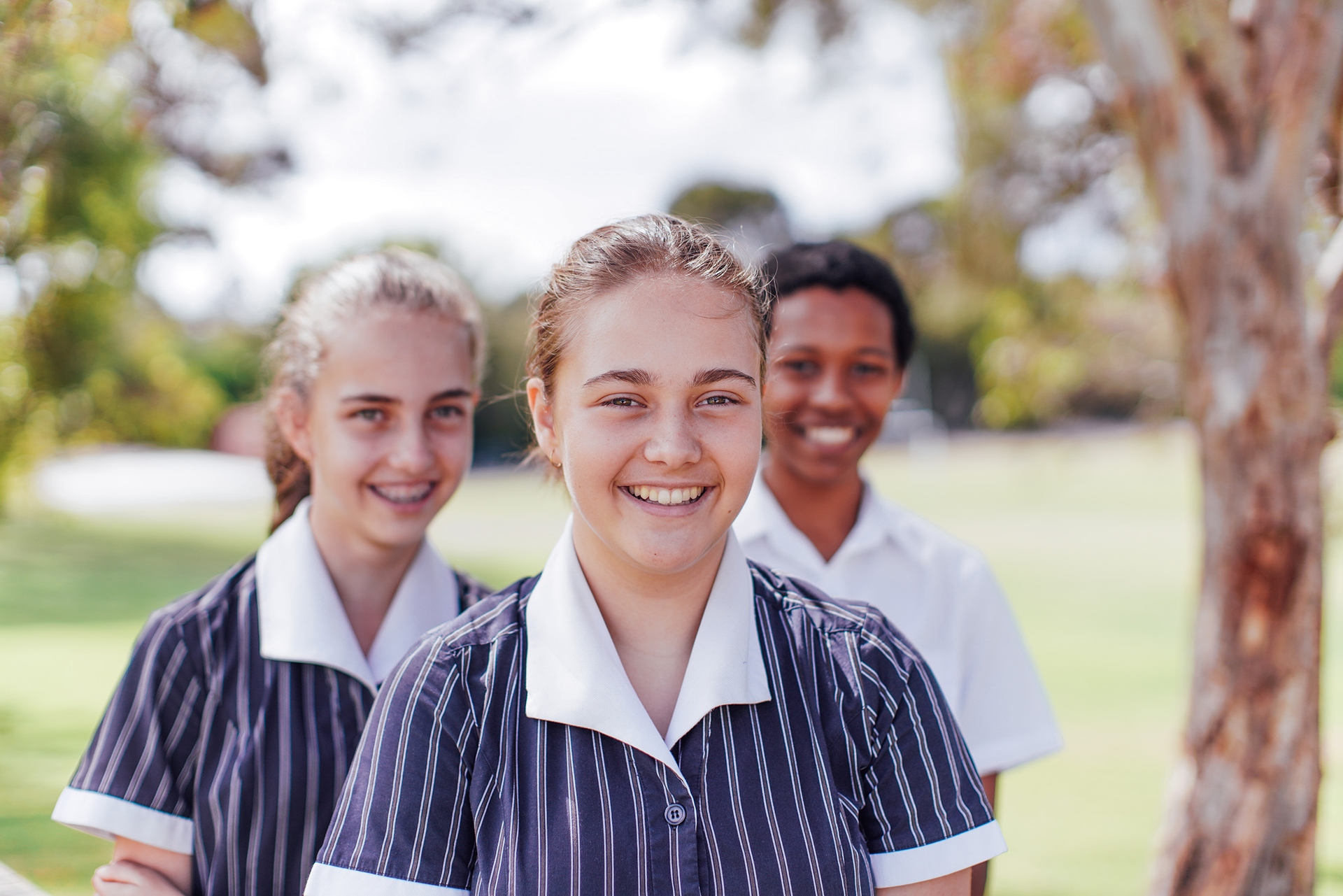 Secondary School
The secondary school years are highly formative in the shaping of young people. Secondary students are journeying through adolescence; a time for discovering passions, developing purpose and demonstrating persistence. A positive secondary experience allows students opportunities to grow, to experience success and to find belonging in their communities. Our prayer is that our students will experience God's love and our graduates will know their value as beloved children of God.
Recognising the value and importance of secondary education in the development of young people, we have intentionally provided opportunities, learning experiences and structures that nurture teenagers in developmentally appropriate ways. For each year level, we design pastoral support programmes, community building activities and learning experiences that safely challenge our young people to develop and graduate as well-rounded, confident and compassionate young adults.
Learning is our focus
When students are well known, safe and supported, quality learning takes place. As such, developing and sustaining healthy relationships is at the heart of our work. We have high expectations for students to positively relate with others. All of our staff members are committed Christians, who take the responsibility of modelling Christ's love seriously; they set clear and consistent boundaries, teach positive behaviours and model healthy communication.
We plan for the learning success of all of our students. Our specialist teachers plan with a clear understanding of the learning process and the most effective teaching strategies for their subject area. During a tour of our secondary classrooms, you will see enthusiastic teachers, well managed lessons and highly engaged students.
A positive partnership between parents and teachers is a vital component in the success of students. Our Pastoral Care teachers keep close contact with parents, helping to ensure that students are well-known by the school and parents are well-informed about their child's academic, social and emotional progress. Parents may also expect communication from subject teachers, school leadership or learning support specialists as their child journeys through secondary school.
Junior Secondary
The Junior Secondary programme aims to provide a space where students can feel well known, safe and valued. Each student takes part in a comprehensive Pastoral Care programme which teaches students the personal skills necessary for success in secondary school, such as effective study techniques, personal organisation and the maintenance of positive relationships. The Pastoral Care time is also an opportunity for teachers and students to pray together and share how God is working in their lives.
All of our Junior Secondary students complete Wisdom, Faith and Life lessons. These lessons provide an opportunity to engage with the Christian faith and to learn what it means to live a life that is connected to Christ.
Year 7
The start of high school can be an exciting, yet daunting time for young people. They're learning the routines of secondary education while connecting with new students and teachers. Our Year 7s are a team; whether they are working hard in Maths, or playing hard in Physical Education, they are in it together.
To support the adjustment of our newest secondary students, we have designed a caring, supportive learning environment. Year 7 students take part in an orientation week, a comprehensive Pastoral Care programme and additional activities such as excursions and a Year 7 Camp.
Year 7 subjects:
Maths
English
Science
Humanities and Social Sciences
Health and Physical Education
Languages Other than English: Mandarin
Emergency Services Cadets
Digital Technology
Design and Technology
Visual Art
Music
Wisdom Faith and Life
Year 8 and 9
Year 8 and 9 students are provided with additional opportunities. They choose from optional subjects that cater to a wide variety of interests. Year 8 also students take part in an Adventure Camp that aims to stretch students' self-belief and further develop the Year 8 community. In Year 9, students take part in a Discovery Camp, where they discover more about themselves, their friends and the South West region.
Subject choices take advantage of our spectacular location in the Great Southern. Outdoor Education classes take students hiking Albany's granite outcrops, snorkelling in the bays or even canoeing in the King River. Permaculture lessons utilise the local Community Gardens where students sustainably grow and harvest fresh produce. Service to our amazing Albany community is fostered through our Emergency Services Cadets lessons, where students learn surf lifesaving skills at Middleton Beach, fire and rescue procedures and even emergency communications.
We help our students develop respectful relationships and foster a culture where each child feels valued. Our research-backed wellbeing programs teach and model highly practical strategies that help students navigate and thrive during their teenage years.
Year 10
Year 10 is a preparatory year for senior secondary study and life beyond school. Our Year 10 students work to refine their study skills, find their passions and determine the best pathway for further study. Not only are Year 10s prepared for their academic future, but they are also prepared for greater independence through the Essentials for Life course, which covers topics such as budgeting, cooking, household care and car maintenance.
Year 10 students are further prepared for the senior years by working toward earning WACE credits. All Year 10 students complete the Core Project, an initiative of local Albany churches. This SCSA accredited course builds on their prior learning in Wisdom Faith and Life, providing students with a sound understanding of Christianity. In addition, students are given the opportunity to complete the Duke of Edinburgh bronze award. This award culminates in the Adventurous Journey, a three day hike that takes advantage of the pristine environment of the Great Southern.
Year 8, 9 and 10 students are offered the following subjects:
Years 8, 9, & 10
Maths
English
Science
Humanities and Social Sciences
Health and Physical Education
Emergency Services Cadets
Visual Art
Photography
Year 8
Music
Design and Technology: Woodwork
Digital Technology: Robotics
Languages Other than English: Mandarin
Media
Drama
Wisdom Faith and Life
Year 9
Year 9 Principal's Exhibition Project
Outdoor Education
Digital Technology: Website Design
Design and Technology: Metalwork / Lutherie
Choir
Rock Band
Best Books
Wisdom Faith and Life
Year 10
Outdoor Education
Design and Technology: Metalwork
Permaculture
Choir
Best Books
The Core Project
Cadets: Duke of Edinburgh Award
Essentials for Life
Senior Secondary Study - Years 11 and 12
Year 11 and 12 students are years of purpose, passion and perseverance. We invest in developing students who graduate from secondary school with the mindset and skills to succeed in twenty-first century workplaces. All senior students are encouraged to think of themselves as leaders, and to develop the skills of servant leadership through their participation in Leadership Portfolios, Leadership camps, school based and extracurricular activities.
We love that our Secondary School is smaller than most. It allows us to know each child well and make sure that they are learning. Having said that, our subject offering is surprisingly broad. Each year, our subject offering is developed with consideration for student needs, therefore, there may be adjustments to better suit cohorts from year to year.
Students can choose between three pathways for their senior secondary study: ATAR, General or General plus Vocational Education and Training. Please see our Student Curriculum Guide for more detailed information.
Year 11 and 12 subjects
List A
English Atar
Geography Atar
Modern History Atar
Economics Atar
English General
Modern History General
Religion And Life General
Career And Enterprise General
Children, Family & The Community General
Health Studies General
Visual Arts General
List B
Mathematics Applications Atar
Mathematics Methods Atar
Human Biology Atar
Psychology Atar
Chemistry Atar
Mathematics Essential General
Human Biology General
Design (Graphics) General
Applied Information Technology General
Physical Education Studies General
Outdoor Education General (On Campus Only)
NEXT STEP
X
Discover how we would nurture your child's potential, personality and passion.