Singleton Kindergartens
Kindergarten at ACC will help your child thrive.
Hear from some of our Kindy students
Hear from some of our Kindy parents
Communication is excellent
A safe, supportive learning environment
At Australian Christian College Singleton, we are committed to providing a safe, supportive learning environment. Our Kindergarten Program is designed to give children an enjoyable early learning experience that prepares them for ongoing school success. We focus on developing rock-solid literacy and numeracy knowledge and skills. We help our students develop positive, respectful relationships and foster a culture where each child can feel valued and welcome.
An intentional learning environment
We are passionate about high-impact teaching that gets results. At ACC Singleton, we have a clear plan for your child's learning success. Our plan is backed by decades of research and has been the cornerstone of teaching at ACC for the past five years.
We have a timely, regular system for assessing student performance, which ensures that teachers know how every student is progressing. Our proven framework helps all of our students experience learning success.
During a tour of our Junior School classrooms, you will see consistency of teaching strategies and highly engaged students.
Great Teachers
Our school leadership is dedicated to employing teachers who enjoy being with children and who delight in helping students thrive in all aspects of their lives. We expect our teachers to deliver high-quality lessons that engage students and drive learning. Each teacher in our Junior School has a Coach observe them every fortnight. They receive specific and direct feedback that helps support their teaching and drive improvements.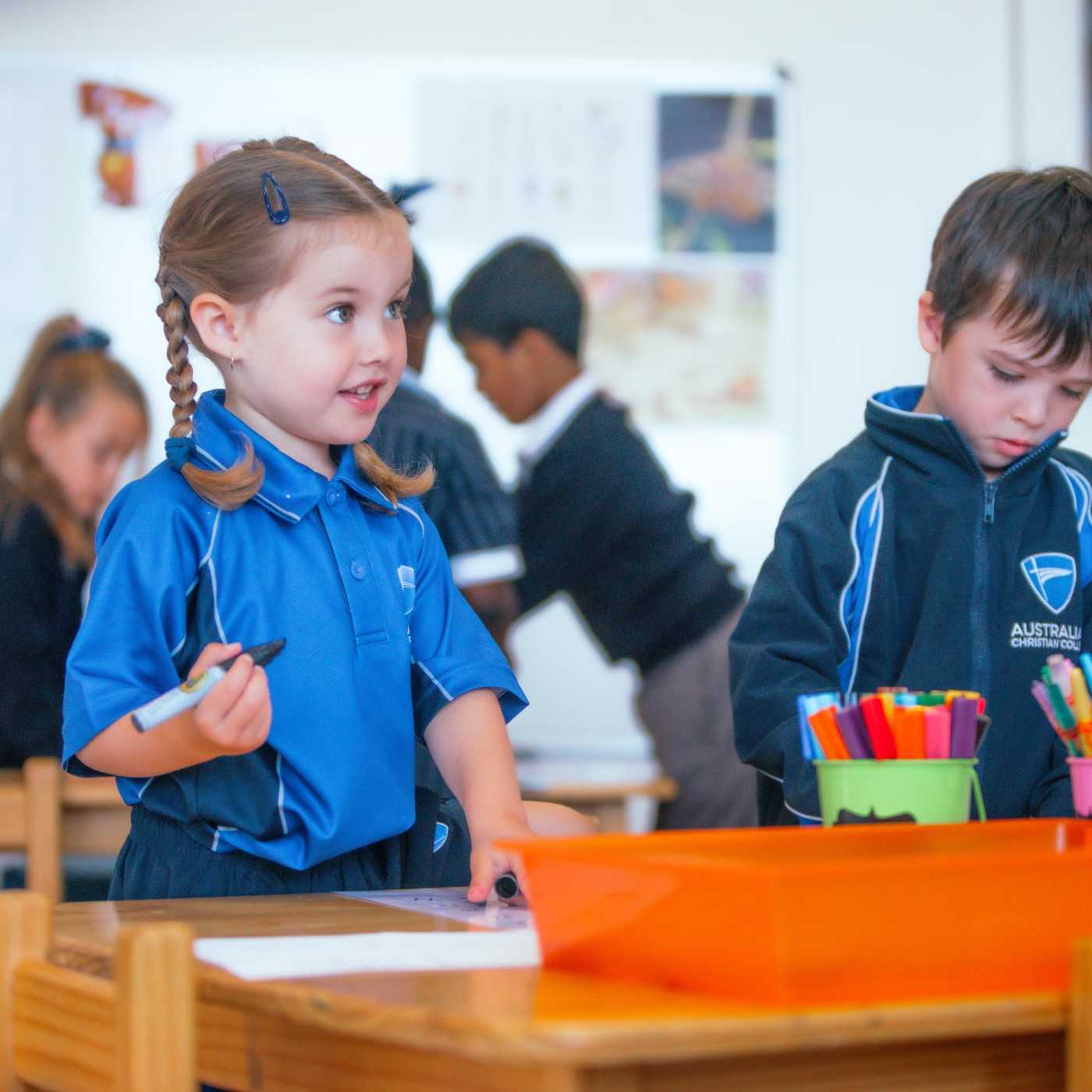 Authentic, supportive relationships
Healthy, nurturing relationships are at the heart of our Kindergarten Program. We help each child develop strong, respectful relationships with their teachers and peers by modelling healthy communication, setting clear boundaries, and encouraging positive attitude and behaviours. Any hint of concerning behaviours is dealt with swiftly, firmly, and compassionately. Relational conflict is managed using a positive and deliberate process of intervention, support and communication.
Parents as vital partners
Parent involvement is such an important part of educational success, and we see parents as vital partners in their child's education. From the first interaction with our College Office through to graduation, connection with the school community is real. Many parents form lifelong friendships through their school connections.
Are you looking for a
Kindergarten in Singleton?
Knowing when your child is ready to start school is critical to their success. We've prepared a checklist that helps you know for sure when your child is ready to start. Download the Kindergarten Readiness Checklist.
To receive your free checklist, enter your details below.
Come and experience the school - book a campus tour
This is an invitation to visit the school and see our Kindergarten in action. See our happy, engaged students experiencing the satisfaction of working hard and learning. A tour with our Principal and Head of Junior School is an excellent opportunity to ask any questions.
Want to do some more research?
To learn more about ACC Singleton before booking a tour, please visit our website to find out more about fees, uniform requirements and more.
Please click here to go to the main page of our website.