Everything you need to know about online school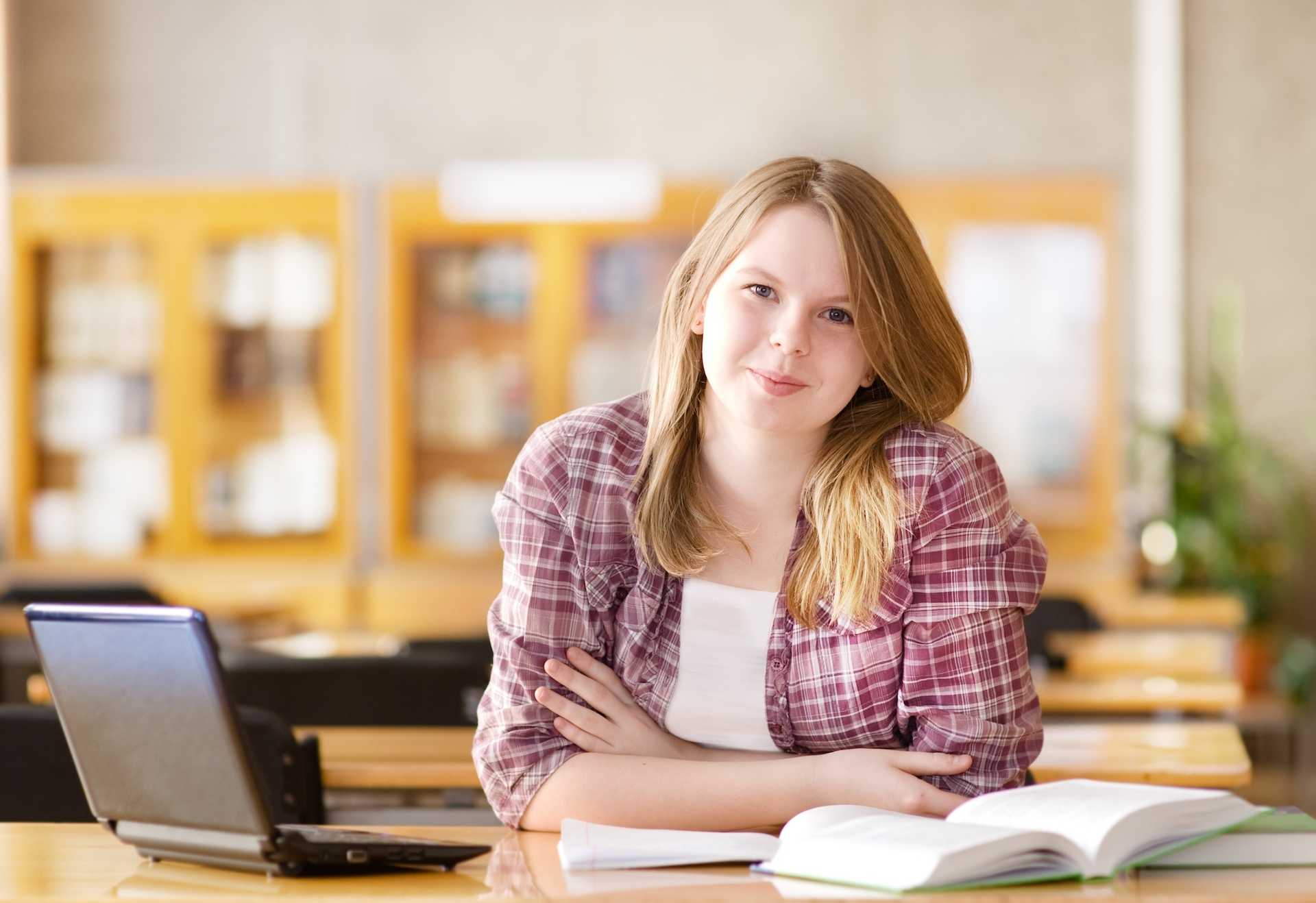 You've probably heard the terms 'online school', 'home school' and 'distance education' a lot lately. Contrary to popular opinion, they are not one and the same. This article provides helpful information and answers common questions families have when considering online education for their child.
What is online school?
With online school, a child is enrolled like they would be at a regular school, except they learn from home. The school provides the learning program and qualified teachers, and the student is supervised by a parent or another responsible adult. It is more like regular school than home schooling, because the child is in a class of peers and the teacher is responsible for their learning – even though they learn from home.
Online school emerged from distance education. However, online students are not necessarily 'at a distance' from a local school, as many live in Australia's capital cities. Moreover, online school is not like correspondence courses, where physical materials are posted back and forth between student and school. Nowadays, the work is completed online using the latest digital technologies.
History of online school in Australia
In 1951, the world's first 'school of the air' was opened in Alice Springs. Isolated students were educated by correspondence and used the Royal Flying Doctors' radio network. Over the next 50 years, more schools of the air were opened in Queensland and New South Wales due to the popularity of this schooling mode.
Around the turn of the millennium, a shift to 'distance education' and using internet-based technologies to educate rural and remote students occurred. Since 2000, distance education schools have increasingly used digital technologies such as email, webinars, screencasting, live chat and video recordings. At the same time, distance education has become more mainstream, with students in metropolitan areas benefiting as much from this schooling experience as their remotely located peers.
How many students do online school?
Official numbers of online students are not available, however anecdotal evidence indicates that upward of 10,000 students learn online in Australia.
The students now engaged in online school are more diverse than the original 'farmer's kid' stereotype. Some of the students you'll find doing online school include:
children who have been bullied and find respite with online school
children with learning disabilities such as ADHD, sensory processing problems, autism spectrum disorder and dyslexia, and benefit from a customised learning approach
young people who are working part-time or completing vocational training alongside their schoolwork
children with illnesses and physical disabilities such as cystic fibrosis, cerebral palsy, impaired mobility, and hearing or visual impairment
the children of families who are working or serving overseas
children with severe anxiety or other mental health concerns
children pursuing a sporting or performing arts career
any students who appreciate the flexibility afforded by studying online.
Australian Christian College (Australia's largest non-government online school) has over 1,400 students ranging from Preschool or Kindergarten to Year 12 in its online education programs.
Is online learning the same as home school?
The short answer is 'no'. In home schooling, the parent is responsible for the child's education. Home schooling is legal in all Australian states and territories. A parent choosing home schooling must apply to their state or territory authority for permission. Parents must plan, implement and monitor their child's learning program, which will usually need to align with the national curriculum. They may purchase a prepared program, but many parents develop their own curriculum to suit their educational philosophy.
In contrast, students enrolled in online school have the support of teachers and educational resources associated with that school. Teachers are responsible for planning, implementing, supporting and monitoring the students' learning. Unlike home schooling, families are not visited by inspectors from government authorities, because the school holds the necessary government registration.
How does online school work?
Online school offers students a genuine alternative to attending a regular school. They still 'attend' classes, except they 'log in' from home.
For online education, students enrol just like they would for a regular school. In some states, such as Western Australia, students must meet a set of criteria to enrol as an online student. Once enrolled, the school operates much like any other – providing qualified teacher support, registered curriculum, learning resources and university pathways.
The biggest difference is that online courses are portable and flexible, so students can learn at any time from anywhere.
Students don't need to sit entrance exams, but they will usually need to do an online literacy and numeracy test in order to place them in the right classes. Regardless of your child's academic ability, online school can accommodate their needs.
With online school, students progress through the learning material at their own pace within a term. If they have difficulty with a topic, they can review the material as many times as necessary before moving on. And if they grasp something quickly, they can progress to the next thing without needing to wait for class.
Students can't fall behind, however. Like regular school, assessments must be completed by certain dates. Assessment tasks will be like those of a regular school, such as exams, essays and multimedia projects. If students are struggling, teachers are there to respond and support their learning.
Online students can interact with their peers through class discussions and build friendships in the online school community.
At ACC, new students can start any time but where possible, beginning with a new term is preferable.
How is online primary school different from online high school?
As with regular school, students in primary grades will have one 'primary' teacher for most subjects, while those in high school have specialist teachers for different subject areas.
Students in primary also spend less hours per day on schoolwork (averaging three to five), compared to their high school peers (averaging five to seven).
How much does online school cost?
Costs will vary depending on several factors, including:
the school your child enrols in
the state
their grade, and
why they're enrolling
Government distance education providers, for example, may charge different fees depending on whether you are enrolling by choice, or because circumstances prevent your child from attending regular school.
Independent online schools charge fees for enrolment similarly to regular independent schools. However, these fees are usually significantly lower than those for enrolment at an on campus facility. Online school offers a great value education. Some schools offer discounts for making annual payments or for sibling enrolments.
Additional costs may include stationery supplies, novels, a device and your internet connection. Costs for optional cocurricular activities like excursions, camps and mission trips are typically charged on a user-pays basis.
How many learning hours per day?
As many as necessary! Government distance education schools may require your child to go online at specific times each day. ACC's online school system is truly flexible. Your child can finish once their work is complete. We do, however, provide a recommended timetable to help keep students on track.
For primary school students, schoolwork takes three to five hours, with secondary students working five to seven hours daily on average. Our senior secondary program has some set times for assignments and/or for some lessons.
What is the regular routine for an online student?
While government school enrolment may entail a regular routine, ACC's online school allows students to log on and submit their work straight to the teacher. Primary students and some secondary students don't need to follow any set timetables, provided they complete their work and assessment tasks within each term's schedule.
In fact, over a third of our students begin learning before 7:00am, while another third start learning after 1:00pm each day.
What educational technology is used for online school?
Online learning uses several digital technologies, including:
a device to connect to the internet, such as a computer or tablet
broadband internet
educational platforms including Canvas, Google for Education and YouTube
email.
And don't worry – you don't need to be a technology whizz to manage online school! A basic proficiency in office software and email is all that's needed.
What is the role of the parent or home supervisor?
You don't need to be a teacher for your child to succeed with online education. The learning programs are designed and delivered by the school, using the skills of qualified teachers.
The parents' role is that of supervisor. A responsible adult needs to be available to monitor the student (and ensure compliance with child safety legislation). The home supervisor ensures children remain on task and work to their full potential. Commonly, primary students require more focused attention from the home supervisor than secondary students.
Because parents know their children so well, they are the ideal partner in their student's learning. You are the 'expert' on your children, and the school provides the teaching expertise.
Do online students wear a school uniform?
No, which means cost savings and no need for daily washing and ironing! Online students may need to wear the school's sport uniform if attending a school-based activity, such as a cross country carnival or swimming carnival.
How much screen time for online students?
Primary students spend, on average, less than an hour per day online. For secondary students, this increases to about three to four hours.
Do online students use textbooks?
This varies from school to school though most online schools still use textbooks for some subjects to supplement the learning materials delivered through the online learning platforms.
How are online courses structured?
Again, this will vary a little depending on the school. ACC's online learning program is modelled on that of universities. Courses are uploaded at the beginning of each term, with a clear start and end point and progression through the subject content.
To keep on track with their education, students must complete the lessons set for each subject every week.
The courses use video content created by our qualified teaching staff and from premium-quality and trusted education content providers. This allows students to pause and replay lessons until they understand the learning material. No more falling behind because they missed a concept or getting stuck waiting for other students.
Students engage with their peers through online discussion forums. Here, teachers pose open-ended questions to stimulate critical thinking, problem solving, collaboration and help students value the points of view of others.
Your child's teachers monitor their academic progress, help to resolve any learning issues, and provide feedback on assessments. Learning support is available for students who need it.
Public vs. private online school
All Australian states have government schools of distance education. Queensland, New South Wales and Western Australia also have non-government schools of distance education.
There are several differences between public and private online school, including:
the degree of flexibility ­– generally, public online school requires students to attend online lessons at specific times, while private ones afford greater flexibility.
costs – private online schools may have higher fees, although these are significantly lower than for private on campus or boarding schools.
enrolment criteria – many government online schools require students to meet strict criteria for geographical distance or personal and family circumstances. In contrast, you can usually enrol in private online schools by choice. You may even be able to enrol in a private online school in a different state or from overseas.
Common reasons families choose online school
Children working part-time
Senior school students often work casual or part-time jobs, while some undertake vocational training or apprenticeships. Online school offers the flexibility to combine the two, although it's important that work doesn't interfere with your student's learning progress.
Pursuing a sporting career
Some families choose online school because its flexibility fits perfectly with sporting commitments. Students who play representative sport at a state or national level frequently train for long hours and may be required to attend interstate or international competitions. This can mean late nights and extended periods away from home.
Online school allows these students to train and compete without compromising on their schoolwork. For example, if they're tired the morning after training, they can simply start their work a bit later. If a week-long international meet is coming up, they can complete extra schoolwork in advance or upon their return.
However, time off school is rarely required. Because they can do their schoolwork from anywhere, provided they can connect a device to the internet, most online students complete schoolwork in their hotel rooms either before or after competing each day.
Pursuing a performing arts career
The same applies to students pursuing a career in performing arts. Students who have been selected for dance, drama and music academies, for example, usually need to attend numerous rehearsals in the lead-up to performances. Others travel regularly to specialist schools or academies for instruction.
Rehearsals and performances frequently mean late nights and may include national or international travel, but that doesn't have to mean missing out on learning. The flexibility of online school allows performing arts students to work around their rehearsal, performance and travel schedules.
While travelling around Australia or going overseas
Some families want to travel while still giving their children a quality education. While travelling isn't recommended for high-school students, who tend to do best with a settled routine, primary-aged children can travel with their families while keeping up with their peers through online school.
Provided they have good internet access and a computer or device, children can complete their schoolwork requirements from anywhere.
It's also a great option if your family moves at regular intervals, for work or church commitments, for example. Some families choose online school because they are going overseas for work or missionary service.
Students with disability
For students with disability and/or special needs, there are many advantages to online learning. Aside from the increased flexibility, which can be a huge advantage if your child has complex needs, online school gives parents greater ability to monitor and control their child's learning.
For students who find the classroom environment difficult, such as those with hearing impairment or ADHD, the online school option may be ideal. Students with mobility impairment and those using adaptive aids such as wheelchairs have what they need at home, and online school can be much easier in terms of getting around and setting up the learning environment.
Online learning can be easily adapted to suit each child's learning needs, and early evidence suggests that students with disability, and their parents, see online school as a successful option. There can also be savings in time, energy and money in learning from home, as families don't need to pay for things like transport or integration aides at a school.
Bullying
Sadly, bullying is a serious and widespread problem. Removing their child from a bullying situation is a common reason families make the switch to online learning.
Receiving a quality education from the loving, nurturing home environment can help to restore a student's confidence and mental wellbeing. It also gives them an opportunity to make new friends in a safe online community.
Anxiety
In Australia, anxiety disorders are the most common group of mental health conditions and they affect children, too. A 2015 government survey showed that 6.9 percent of children aged 4 to 17 years had suffered an anxiety disorder in the past 12 months, while almost 20 percent of those aged 11 to 17 years had experienced high or very high levels of psychological distress.
For some students, the campus school environment is stressful. Aside from bullying, students may struggle with social anxiety and peer pressure. For students with learning disabilities such as ASD and ADHD, the classroom can be overwhelming.
For these students, online learning is a legitimate, accessible and stress-free option for getting a quality education.
How online school affects mental health
Your child's mental health includes their emotional, psychological, and social wellbeing. It is influenced by genetics, relationships and everyday stresses as well as traumatic and challenging events.
The education experience is linked with student wellbeing and learning outcomes. For students who have anxiety, depression, or other mental health concerns, online school can be an excellent choice. Some of its advantages include:
the option of learning from the safe, nurturing and stress-free home environment
flexibility to attend classes when and where best suits the student's needs, which may include fitting school around therapy appointments
self-paced learning, which allows students to work at their own speed without the pressure of keeping up with classmates
no need for transport to and from school, which can be stressful for some students
the ability to develop friendships in a safe, monitored online environment.
Boarding school vs. online school
Unlike boarding school, where students are removed from the home environment, online school allows students to receive a quality education at home. For many students, this warm, loving and nurturing environment is ideal for learning.
Online school offers remote families the opportunity to stay together. It's also more affordable, as it eliminates boarding fees and travel costs
Do online students have university pathways?
Yes. Depending on which state or territory you're in, your child may be eligible to receive the standard university entrance scores, or to gain placement by linking their studies with state or territory university entrance exams. Check with the school for further details.
How can online students develop social skills?
With online school, students are learning at home, away from the social context of a regular school environment. For this reason, parents need to be intentional about creating socialisation opportunities for their children.
Students can easily build friendships with their peers and connect with those with common interests in the online student community. At ACC, online students have lively discussions around topics like sport, movies, books and computer games.
Online schools often provide cocurricular activities where students can meet face-to-face, such as camps, workshops, excursions and sporting events. Many online students are also active in their local community, church, sporting and hobby groups, where they meet friends and learn to interact with a variety of people.
Is online school right for me?
To help you decide whether online school could be the right choice for your family, it's worth asking a few questions. For example:
Will my child benefit from the flexibility and self-paced instruction of online school?
Will online school be helpful for my child's physical, emotional, spiritual and social development?
Is the home environment a better place for my child to be learning right now?
Can we provide a home supervisor?
Does my child have special needs, an illness or a disability that makes attending regular school more challenging?
Do we want to provide a home-based education that offers all the teacher support, learning resources and university entrance pathways of a regular school?
Do you like the idea of developing a close-knit family?
If you answered yes to most of these questions, then it's definitely time to consider online school.
Applying for online school enrolment
If you're ready to enrol, you'll need to check your chosen school's enrolment requirements, read any contracts and follow their process. You'll probably need to complete an online application form, which may include an application fee.
Enrolment applications often require you to submit copies of important documents, such as your child's:
Birth Certificate
Australian Citizenship/Visa/Passport (if your child was not born in Australia)
Latest school report​
Years 3/5 NAPLAN results (if applicable)
Medicare Card
Immunisation records
Custody orders/parenting agreements​ (if applicable)
Specialist reports/documents relating to students with special needs or disability
Medical reports, eg. for asthma, anaphylaxis (if applicable) ​
If the school has any questions, they will contact you. The next step will usually be an interview, either in person or over the phone. The school will advise whether your application has been successful and next steps to start if your application has been accepted.